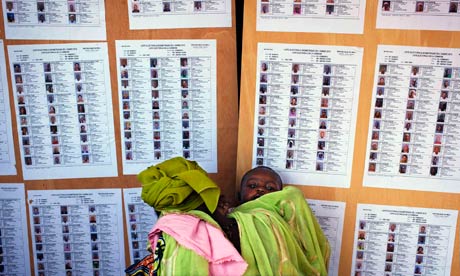 From The Guardian UK
July 29th France 24 reports that:
Sunday's poll was conducted fairly smoothly with no reports of violence and a large number of Malians casting their ballots, defying security fears and disregarding Islamist threats to derail the vote.
Official turnout figures have not been released, but analysts say the voting rate could exceed the 36 percent achieved in the 2007 elections.
RPM projections
on Sunday
night put Keita in the lead, which led to hundreds of supporters gathering at the party's Bamako headquarters and chanting, "IBK – the man we need." Similar scenes of jubilation unfolded at Cissé's URD party headquarters in the Malian capital. These are the two candidates expected to face-off on August 11th.
http://www.nytimes.com/2013/07/29/world/africa/mali-holds-elections-after-year-of-turmoil.html?_r=0


http://news.xinhuanet.com/english/africa/2013-07/28/c_132580798.htm